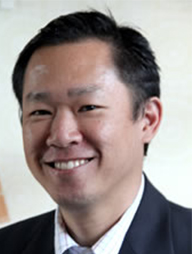 As an international trainer, a business consultant in intercultural negotiations and a business coach for expatriates, Nick Cheong relies on more than 14 years in leading projects and giving training in 4 languages.
Born and educated in Singapore, Nick has lived and worked in Asia, Europe and South America. He graduated in business specializing in marketing and he also holds a post-Graduate degree in Information Science specializing in eCommerce. Nick began his career in Hong Kong as a trainee with HSBC Group and later moved back to Singapore to work in Sales and Marketing within the technology and graphic arts industries. He later moved to Germany where he led projects and conducted successful trainings for multiple international teams.
In Singapore, he first worked with Hong Kong Trade Development Council as their Trade Officer responsible to match business partnerships between Hong Kong and Singapore. He later worked for Epson Singapore responsible for its distribution network for India. Following his success with channel sales management with Epson Singapore, he joined Heidelberg Asia Pacific where he was in-charge of its Asia Pacific distribution network for professional desktop scanners and professional digital camera back systems. Later, he was selected to work in its German head office, Heidelberger Druckmaschinen AG, to lead its global ecommerce initiatives. He was responsible for the German manufacture's successful implementation of a global eCommerce platform in USA, Canada and Nordics countries.
In Germany, Nick also served as the Project Manager of a global supply chain system based on the SAP platform throughout multiple countries throughout Europe, Latin America, South Africa, and Russia. He developed and conducted business process mapping workshops, training programs for new users and managed implementation expectations with management through continuous communications circulations and ongoing workshops. Nick also participated in the German manufacturer's selection process for its new factory facilities in China.
Nick was later posted to Sao Paulo, Brazil, to work as a senior project consultant for Heidelberg do Brasil to implement a machine configuration and sales quotation generation system based on SAP. He later used his expertise in cross cultural negotiations to assist Brazilian companies in successful international business with Asian and German partners including sourcing and importing construction and machinery tools from China and Germany for Brazilian companies. Nick speaks fluent English, Chinese (Mandarin and Cantonese), Portuguese and German.
Nick is now living in Sao Paulo, specializing in intercultural coaching, Intercultural Business training and as a business consultant in inter-cultural business negotiations and assists foreign companies assess and match Brazilian companies. As one of the 26 international trainers of ICC (International Coaching Community), he conducts international coaching certification programs. He is doing life and business and also offers sales coaching through cloud computing with a leading US software company for their team based in Singapore.
Nick attained his Master's in Electronic Commerce from Edith Cowen University, Australia. He also holds a Bachelor of Business (Merit) specializing in Marketing from Nanyang Technological University in Singapore. He is a certified coach by ICC and a certified NLP Practioner by the Society of Neuro Linguistic Programming. He is also a certified Cultural Consulting Trainer / Practioner of Culture Orientation Approach (COA) by TMC in helping corporations embed cultural competency in their organizations.
CONTACT DETAILS
Director of Coaching, Intercultural & Diversity Practice
Berners Consulting
Email: nickcheongpt@outlook.com
Get more information
Request more information and we will answer you shortly