PATRICIA ZAMBRANO SANCHEZ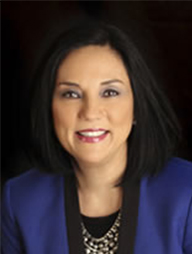 She is the General Manager at Impel Monterrey, where she serves as Executive, Life, and Team Coach. She is also an instructor for national and multinational companies including Vitro, Stabilit, Bayer and Osram, with a variety of seminars and workshops such as: Coaching Workshop for Parents, Leaders Forming Leaders Seminar, the Seminar of XXI century skills, among others. She has been a thesis tutor in the Master Degree of Education program at the Virtual University of ITESM and has been a Coach within the Young Leadership Program with university students in the Santos Foundation and de la Garza Evia, "Cambio yo, Cambia México".
She has developed and taught courses in Human Development, Faculty Development, Strategic Planning, Developing Thinking Skills, Creativity and Family Formation. Since 1987 she has participated as an instructor in courses for the youth, marriages and families.
She has participated as a guest lecturer in various forums in the country to discuss the keys in Family Harmony, the Golden Pyramid of Human Resource, Cognition and Creativity, Challenges of Being a Woman, the hidden Power of Being Human (Resilience), Psiconeuresthethics and motivational issues, among others.
She is the author of articles in the "Family Matters" section of the Sexenio Digital Magazine. She also writes in the Global Coaching journal. She participated in the creation of the book "Recién casados" which is an accompaniment project for newlyweds with CIFFA.
Also, since 2004 she has been coordinating with her husband the Prenuptial preparation program at the Diocese of Fatima and is an instructor at this program of the topics: Sexuality in the service of Love, Relationships with Family Policy and Leadership in Marriage.
Education:
• Trainer ICC International Coaching Community. 2015
• Team Coach. ICC International Coaching Community. 2013
• Life Coach. ICC International Coaching Community. 2011
• Executive Coach. ICC International Coaching Community. 2009-2010
• Responsible Parenthood Workshop. 2013
• Managing Emotions and Decision Making. Impel. 2012
• Facilitator Training Certificate. USA Inc. FOCCUS (Facilitating Open Couple Communication Understanding & Study) 2010
• Workshop on Responsible Parenthood. 2009
• Marriage and Family Workshop. Cirilus.net 2008
• Master of Education with specialization in Cognition. UDEM 1999-2002
• Diploma in Development Thinking Skills. ITESM 1984-1985
• Surgeon Dentist. Universidad Autónoma de Nuevo León 1977-1982
CONTACT DETAILS
Email: pzambrano@impel-mx.com
Phone: +528188822795
Get more information
Request more information and we will answer you shortly