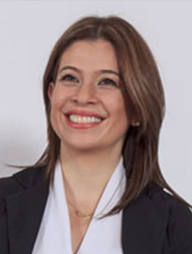 Born in Colombia, and currently residing in Bogotá, Viviana studied Economics and Finance at the Universidad del Rosario, has a Specialization in Corporate Finance from the College of Advanced Studies of Business Administration – CESA – and holds degrees in Foreign Trade and Securities Market at Universidad de los Andes.
She practiced as a Trader at the Operations Desk in one of the main banks of Bogota, for more than 15 years. In 2013, she discovered in Coaching her true passion, and trained in Buenos Aires – Argentina where she finished her training as an International Coach for ICC and Outdoor Team Coach. She obtained the title of Professional in Neuro-linguistic Programming (PNL) in Peru. In Colombia, she was certified as a Life Coach.
In 2015, she became a Master Coach for the ICC for Colombia and Bolivia, endorsed by Joseph O'Connor and Andrea Lages, founders of the ICC.
In 2016, she was invited to participate as a lecturer at a human resources congress in Russia and the Coaching Challenge in Argentina. She has made several webinars with topics such as Feedback and the observer in coaching and is a columnist in magazines and blogs specialized in coaching. Viviana has more than 5 thousand followers in her social networks, becoming a reference of coaching in Latin America.
Today, she seeks to make a difference in people's lives to enhance their value, accompanying them in achieving their goals and supporting them to be the best version of themselves. Her mission – to leave this planet better than how she found it – has led her to train in different places in Latin America, working to professionalize Coaching in the world.
CONTACT DETAILS
Viviana Patricia Quintero Rodriguez
Telephone: +57 (300) 628-6217
Carrera 8b # 108-41 – Bogota, Colombia
Email: viviana@vivecoach.com.co
Website: www.vivecoach.com.co
Get more information
Request more information and we will answer you shortly