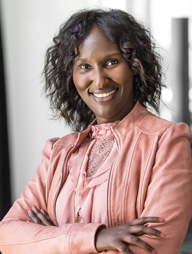 Nelma Fernandes, the founder and CEO of Win Coach Academy, is exceptionally passionate about the potential of human and individual self-development.
Formally trained to degree level in Architecture and Finance Management, Nelma also holds a postgraduate degree in Leadership and Career Development for Women in Business, along with an Executive Masters in Management, both from the Católica Lisbon School of Business and Economics. With a career spanning approximately nine years in the banking and asset management sector, Nelma also has extensive entrepreneurial and franchise managements skills, having privately owned six stores.
As an International Certified Coach and member of the International Coaching Community (ICC), Nelma is the appointed ICC trainer for some African countries. She is also certified as a Systemic Coach, as well as a DiSC trainer. In addition, Nelma is qualified in Somatic Experiencing and Somatic Psychology and Analysis – a revolutionary approach, based on neuroscience, to dealing with PTSD, chronic stress and other trauma.
With wide experience across the training and coaching sector, in both SMEs and multinational companies, Nelma is an active Executive Coach, Life Coach, Team Coach, and specialised in Coaching at Large Enterprises, focusing on Teams and Leadership Coaching, behavioural change and implementation of a Coaching Culture within business environments.
Being armed with this wide range of coaching skills allows Nelma to create an excellent working dynamic both within company teams and outside larger organisations. Nelma believes human resources are the most valuable asset in any business and that investing in the development of the best version of each individual will ultimately bring results and rewards to any organisation.
In her personal time, Nelma enjoys running, reading and travelling, to experience new cultures.
CONTACT DETAILS
Win Coach Academy
Campo Pequeno Nº 40 – 4ºE
1000-080 Lisbon, Portugal
Telephone: +351 934 588 648
www.wincoach.pt
Email: wincoach@wincoach.pt
Get more information
Request more information and we will answer you shortly