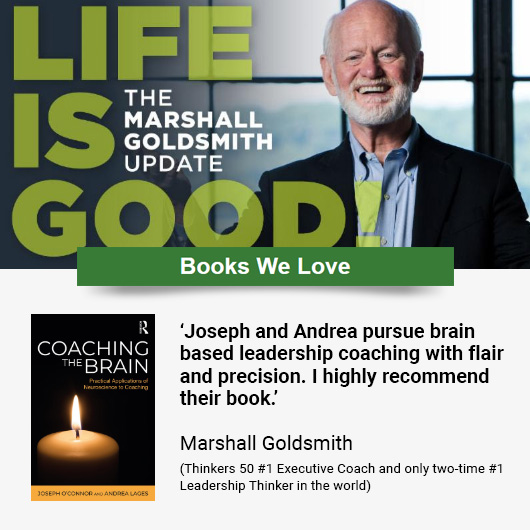 O mais novo livro de Joseph O'Connor e Andrea Lages foi selecionado na seção "Livros que Amamos" da newsletter de Marshall Goldsmith esta semana.
Marshall Goldsmith é um educador e coach de negócios de renome mundial, e o principal especialista em seu campo. Sua capacidade singular de obter resultados para os principais líderes atraiu mais de 150 CEOs e suas equipes de gerenciamento para lidar com a mudança no local de trabalho.
Entre seus muitos prêmios e reconhecimentos:
O pensador de liderança mais influente do mundo (2015 e 2011), o top ten business thinker e o coach executivo com melhor classificação (2015, 2013 e 2011) pela Thinkers 50;
Prêmio Lifetime achievement for management education, do Institute for Management Studies;
Um dos cinco treinadores executivos mais respeitados, pela Forbes;
Os dez principais educadores executivos, pelo Wall Street Journal;
Cinquenta grandes líderes que impactaram o campo da administração nos últimos oitenta anos, pela American Management Association (AMA);
Os 15 Maiores Pensadores de Negócios do Mundo, pela The Times;
O prêmio John E. Anderson Distinguished Alumni Award (2012), o maior prêmio por conquistas excepcionais que a escola pode conceder aos ex-alunos, pela UCLA Anderson School of Management, entre outros.
Encomende o seu na Amazon!
Quer mais informações?
Preencha os campos abaixo e entraremos em contato com você.