Entrenadores Certificados ICC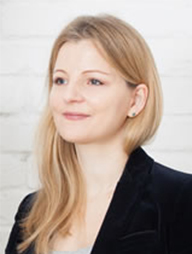 Bachelor in Social Sciences – Vilnius University, 1996-2001
Master of Business Administratio – Programs: Finance strategy and management, Marketing strategy and management, Personnel strategy and management, Management and Leadership – ISM University of Management and Economics, 2004 – 2006
Psychodynamic group psychotherapy qualification – Vilnius University, 2006 – 2007
PhD in Management and leadership, social sciences – ISM University of Management and Economics, 2007 – 2013
Main qualifications, additional education
2000 May 14-16, Tallinn – Mercury International, Estonia – Administration Course
2001 June 4-6, Klaipėda – Primum Esse, Lithuania – Course "Influential Behavior"
2001 August 28–30, Vilnius – Management Center Europe, Belgium – Negotiation Training (effective negotiating)
2001 September 6-7, Klaipėda – Primum Esse, Lithuania – "Effective communication" course
2001 November 2-4, Klaipėda – Primum Esse, Lithuania – Professional moderator (moderating to seminars, conferences, training)
2001 November 8-10, Vilnius – Management Center Europe, Belgium – Art of Team Building (effective co-operation, teamwork, team building)
2001 November 26-29, Lausanne, Switzerland – Management Center Europe, Belgium – Dialogue versus Debate (Effective co-operation and communication)
2002 March 25-29, Lausanne, Switzerland – Towers Perrin, USA; Steven Blumenfield – Strategic Planning Training (project co-ordination, planning, achieving the goals)
2002 April 15-17, Vilnius – MediaAble, USA; Steve Alice – Media Training (speaking to media)
2002 June 2-4, Klaipėda – Primum Esse, Lithuania – Professional moderator II (moderating to seminars, conferences, training)
2006 May 22-23 – ISM – Methodology of social research
2007 November – Granada, Spain – Psychodrama course "Authentic Self"
2008 March 13-14 – Primum Esse, Lithuania – Effective sales
2009 February – May – BI, Norwegian School of Management, Oslo – Studies in Management and Leadership Department: Contemporary Topics in Organizational Behavior, Strategic Leadership
2010 May 3-7 – BI, Norwegian School of Management, Oslo – Doctoral course "Research on Leadership"
2010 November – Aarhus University – Distributed and Shared Leadership, Doctoral Course
2011 December – ISM University of Management and Economics – The Road to Teaching Excellence"
2012 – 2014 – Waverly Abbey College, UK – Certificate of Senior Consultant
2014 October – November – Coach Liga, ICC Russia – Certified ICC Coach
2015 August  – Lambent ICC, London, UK – Certified ICC Coaching Trainer
Professional Experience
1995-1996 – Lithuanian Center for Human Rights – Coordinator
Translation and edition of EU Conventions, organization of seminars in the area of human rights
1995 September –1996 December – Law Firm "Lieika Petrauskas, Valiūnas & Partners" (LAWIN) – Assistant to Lawyer
Work with legal documents, monitoring of legal data base, assisting in preparation of legal documents
1997 January – 2000 March – American Law Firm "McDermott, Will & Emery" – Manager
Work with legal documents, monitoring of legal data base, assisting in preparation of legal documents, office administration
2000 March – 2002 November – UAB "Philip Morris Lietuva" – Corporate Affairs Executive
Coordination of public affairs, communication and personnel projects, representation of the company in public.
2002 December – 2007 October – UAB "SOPHUS" – Director
Strategic management of the company. Consultancy in business development. Delivering trainings.
2007 November – 2010 October – UAB "BMS Group» – Business Client Department Director
Leading the department of business clients: sales, marketing, human resource management.
2010 – currently – UAB "ALISA MANAGEMENT LABORATORY" – Partner and Director
Consulting organizations in development and management. Delivering trainings.
Publications and conference proceedings
Miniotaitė, A., Bučiūnienė, I. (2013). Explaining Authentic Leadership Outcomes from the Perspective of Self-Determination Theory. Management of Organizations: Systematic Research, Vol. 65.
Miniotaite, A. (2011). The Impact of Authentic Leadership on Followers' Self-Actualization. Paper presentation. Academy of Management Annual Meeting, San Antonio, USA.
Barvydienė, V., Miniotaitė, A. (2010). The role of intuition in business decision making process; Lithuanian Academy of Applied Sciences research papers/Lietuvos taikomųjų mokslų akademijos mokslo darbai, Nr. 6. P. 93-105., ISSN 1822-0754.
Manual to EU Integration and Development Issues, Alisa Miniotaite, Mindaugas Vilcinskas, Vilnius 2004, ISBN 9955-9689-0-7
Languages
Lithuanian, English, Russian, German
CONTACTO
Teléfono: +370 (5) 210-7027
Web: www.amlaboratory.com
Email: info@amlaboratory.com
Obtener más informaciones
Solicita más información y te contactaremos a la brevedad.