Entrenadores Certificados ICC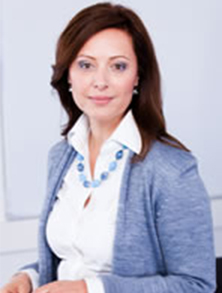 Propietaria de la Escuela de Negocios Coaching & Training, una empresa bielorrusa especializada en negocios y educación. Coach Ejecutivo y coach de Negocios.
Experiencia profesional:
Una psicóloga colegiada y Coach, Irina tiene una amplia experiencia en coaching y enseñanza con empresas nacionales e internacionales de diferentes sectores. Su experiencia se centra en el desarrollo del liderazgo, eficiencia personal, psicología de la gestión, gestión de la comunicación empresarial, imagen corporativa y cultura corporativa, ventas efectivas y negociación. Ella es la autora de un curso de auto-desarrollo propio en el área de desarrollo personal en un programa Executive MBA (un proyecto conjunto con la Universidad de Kazminski, Polonia) y autora de una serie de libros de formación para coaches corporativos en ventas y comunicaciones con los clientes.
Formación y desarrollo profesional
1. Diploma Profesional en MANAGEMENT/DplMgmt (Open), LINK, 2008.
2. Belarusian State Pedagogical University, Diploma con honores en Psicología, 2003.
3. Universidad de Cultura, Directora-Productora de Teatro, 1990.
Calificaciones como trainer
1. Zavialova's School of Business-Trainers (Moscú), Trainer de Negocios, 2003.
2. Certificado de Entrenamiento para Trainers del New Eurasia Establishment, Minsk, 2006.
3. International Institute for Management Development GmbH, Trainer de Negocios Stufe S/ (Moscú), 2008.
Calificaciones como coach
1. Certificación ICC Trainer. Certificada por Andrea Lages y Loseph O'Connor, 2013.
2. Certificación ICC en Coaching. Minsk, 2012.
3. Certificación por el Coach Institute, San Petersburgo, 2005.
4. Taller en Coaching, con Filip Mihailovic (Eslovenia), 2009.
5. Coaching en Eficacia Personal, Saint Petersburg State University, 2010.
Experiencia laboral
2014 – Propietaria de la Escuela de Negocios Coaching & Training
2013 – Directora de IPM School of Coaching
2003 al presente – Trainer en Nefocios, Coach, Profesora y Consultora
1997 – 2008 – Centro de Servicios "Aqua-decor", propietaria y CEO
1997 al presente – Entrepreneur
Ella es miembro asociado de la Asociación Bielorrusa de Psicoterapeutas.
Un miembro de OCM Coach-Mentor Associate Group (Oxford, Reino Unido).
Obtener más informaciones
Solicita más información y te contactaremos a la brevedad.