Trainers Certificados pela ICC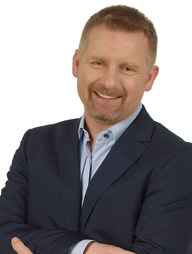 I am a coach and trainer of many years' experience. I gained it while working in several companies and at different positions. Moreover, I did a postgraduate course in marketing and management as well as a number of specialist trainings in many fields.
I am a sociologist by profession. I started my work as a trainer and consultant in 1998. Since then, I have been conducting trainings, coaching, workshops, lectures and various sorts of consultation. I am a holder of the Master of Art of NLP certificate.
I believe coaching is one of the most effective and fastest methods of development of the potential of individuals and work teams. In my work, effectiveness always comes first. I employ all recognized and available methods (for example, advanced tools of self-development, systemic thinking, Extended DISC, etc.) so that the client is able to achieve a desired goal of the coaching process as soon as possible. I am strongly convinced that everybody conceals immense undiscovered or unappreciated potential. If used, this potential may immediately translate onto greater effectiveness of our actions because of the change in our habits, beliefs or mind-set.
Both at work and at home I subscribe to the principle:
Changing yourself, you change the world.
CONTATO
Site: www.teamcoaching.pl
Email: rnykiel@teamcoaching.pl
Quer mais informações?
Preencha os dados abaixo e entraremos em contato com você em breve.