NATALIE VASINA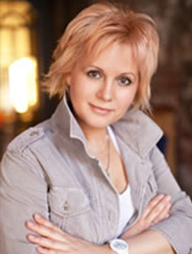 Natalie Vasina, Practicing Business Coach from 2014 and first Russian Trainer ICC Global from August 2015. ICC certification is in Basic Coaching, Team Coaching, Executive Coaching.
Key fields of coaching expertise: Business, Executive, Team Coaching. As well as consulting in Strategical, Operational Marketing and Business processes.
Business expertise – 23 years, within 500 Fortune multinationals as Mars Candy, Coca-Cola, Wimm-Bill-Dann, Pepsico. From 2005 become a Marketing Director, managed the business segment with 1.5 billion Dollars Annual Revenue. Successful formation and management of Marketing department of 20 people. Strong Expertise in Strategic Planning, Operational Marketing, Long Term Portfolio Strategy development and implementation within 2 merged businesses, results proven projects in Portfolio Strategy, Brand Building and NPD.
Education:
St – Petersburg State University – Physics Department 1993; HBS Diploma mini-МВА program 2010; Kellogg Business School 2012 – Marketing Executives programm "Strategic Development and Implementation Management"
CONTACT DETAILS
Email: vasinacoach@gmail.com
Web: www.success-logic.com
Phone: +7-985-727-88-21
Get more information
Request more information and we will answer you shortly