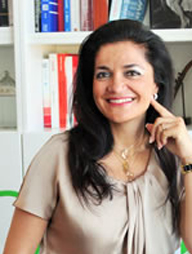 Alexandra is an entrepreneur passionate about working with people.
She is graduated in Chemical Engineering and post graduated in Business Sciences with a specialization in Entrepreneurship.
During sixteen years she developed her work on the technical and sales field, consultancy and training of teams in companies from industrial and services sectors, working directly with people and their daily challenges.
Alexandra embraced the fascinating profession of Coaching and is certified by the ICC – International Coaching Community as International Certified Coach and as the ICC Trainer for Portugal.
She is a Certified Systemic Coach with the Methodology of the Organizational Constellations by the Talent Manager and attended the IDM – InterDevelopmental Institute Program to learn the dimensions of the Constructive Developmental Framework (CDF) as a powerful tool in assisting and developing people in organizations. She is a Certified DiSC Trainer and applies the DiSC tools to support her coaching work on present behavioral awareness and on the potential desired change by clients.
She is Coaching Professor in Higher Education University integrated in the Executive Master of Science in Human Resources Management.
Alexandra is Partner at Premium Coaching – a coaching company working in Life, Executive, Business and Team Coaching with national and multinational companies to facilitate the insights of leaders and teams about the solutions they find for themselves.
She is President of the Board of Directors of Approaching – Associação Portuguesa dos Profissionais de Coaching in Portugal and co-founder of the Approaching in Spain – Asociación de Profesores y Profesionales del Coaching y Mentoring.
Alexandra is a motivational speaker in International Congresses and Conferences in the area of Coaching and Public Speaking. She is recognized by the TI – Toastmasters International as a Competent Communicator and a Competent Leader and she is Past President and co-founder of the MBTC – Mind Business Toastmasters Club, a non-profit club of the worldwide TI organization to facilitate the training and development of communication and leadership skills of business people.
Alexandra is a writer and likes to communicate, read and is a fan of tap dancing and also of the magic of the Cirque du Soleil. She is a volunteer in the community applying her voice in reading books that turn audio books and articles at the Project Gaia Inclusiva, a service of reading and cultural promotion for people with special needs.
CONTACT DETAILS
Telephone: (+351) 211 582 204 (+351) 934 489 281
Email: alexandra.lemos@premiumcoaching.pt
Web: www.premiumcoaching.pt
Skype: coachingprofissional
LinkedIn: http://pt.linkedin.com/in/alexandralemos
Facebook: http://www.facebook.com/#!/alexandra.lemos.3954/info
Get more information
Request more information and we will answer you shortly