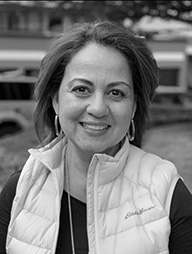 Internationally Certified Coach and Certified Trainer of the ICC.
Alina Borbón has a Bachelor's degree in Psychology and a Master's degree in Education, with an emphasis on Counseling. She received her certification as an International Coach from the ICC in Miami and proceeded to be certified as an ICC Trainer by the ICC co-founder, Andrea Lages, in São Paulo, Brazil.
Life has taught Alina that human beings have a choice in how they face the daily difficult moments in life. Her sense of inner peace and optimistic attitude perfectly complement each other to create an environment of trust and respect, in which her clients can reach their personal goals.
Her experience as the mother of a blended family and her academic training led her to discover that individual differences can complement and create new communication channels, to achieve stable and long-term relationships. From this point of view, Alina offers her clients a rich space of possibilities, where learning is enhanced and self-fulfillment is easier to visualize.
Alina's passion for education has also given her the opportunity of working with young adults, who are in the process of choosing their professional careers, or contemplating new career paths. She offers them support during their journeys of self-discovery and redefining their goals.
She's a part of the Impact Coaching Solutions team, and together with trainers Guillermo Mendoza and Maria Bruederlin, produced the first ever "Coaching Without Barriers" workshop for the deaf and hearing impaired community. Alina's passion is to always take coaching to new and exciting frontiers.
CONTACT DETAILS
Miami and Costa Rica
Web: www.icscoach.com
Email: aborbon@borboncoaching.com
Telephone: +1 (786) 479-2793
Get more information
Request more information and we will answer you shortly