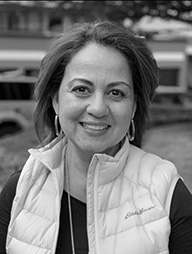 Internationally Certified Coach and Certified Trainer of the ICC.
Alina Borbón has a background in Psychology and a Master's in Education with an emphasis in Orientation. She was certified as International Coach from the ICC in Miami and obtained her certification as ICC Trainer by ICC co-founder Andrea Lages in São Paulo, Brazil.
Life has taught Alina that the human being can choose the attitude with which he assumes the difficult moments that come before him. The peace and optimism that she transmits are the perfect complement to create an environment of trust and respect in which the client can develop freely.
Her experience as an assembled family mother and her academic training have helped her to discover that individual differences rather than dividing can complement and create new communication channels to achieve stable and lasting relationships. From this perspective, Alina offers its clients a space rich in possibilities to grow and reinvent themselves.
Her passion for Education has also given her the possibility of working with young adults who are in the process of choosing their professional careers, or who doubt the choice already made. He offers them support to self-discovery and the redefinition of goals.
Currently, Alina is part of the Impact Coaching Solutions work team and together with trainers Guillermo Mendoza and Maria Bruederlin she promoted the "Coaching without barriers" project to integrate the activities of the organization to members of the deaf community of Costa Rica.
CONTACT DETAILS
Miami, USA
Web: www.borboncoaching.com
Email: aborbon@borboncoaching.com
Telephone: (786) 479-2793
Linkedln: www.linkedin.com/in/alinaborbon
Facebook: www.facebook.com/borboncoaching
Instagram: www.instagram.com/borbon_coaching
Get more information
Request more information and we will answer you shortly