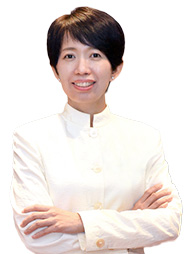 Certified and Authorized Coaching Trainer of the International Coaching Community
EMR Academy Founder and CEO
The First Global and Malaysian Affiliated Malaysian Trainer and Consultancy Certification Project Partner for NLP University, USA
The first Malaysian to become an Affiliated Project Partner for NLP University, USA
Master Trainer and Facilitator certified by NLP University, USA
Master Trainer of NLP certified by American Board of NLP
Master Practitioner of NLP certified by NLP University, USA
Facilitator of Systemic Constellation certified by Dr Bertold Ulsamar, Germany
NLP Coach
Authorized user for Teaching Materials from NLP University, USA
One of the first Authorized users for Teaching Materials of Success Factor Modeling™
Gestalt Therapy
Clinical Hypnotherapist Certified by ACHE
A real estate broker with 20 years of experience, Annie Chong has always been an avid learner in life. Her moderate education background has never stops her from working relentlessly to improve her life.
She first came across NLP in 1999. From then on, the teachings of NLP have enriched her life journey, one day at a time.
In 2006, with the thoughts of spreading the seeds of love and knowledge, she founded EMR Academy with her business partners.
Change shall begin within oneself, and slowly affect the people around them going towards the same direction, this is a belief Annie Chong held dearly to her heart.
The ability of a single man might be limited, yet by helping each and everyone around us, the Snowball Effect shall plays its part, and the energy it brings is enormous!
In the following years, she devoted herself to learn and master the teachings of NLP as well as other courses. Apart from that, she also applies all the skills and knowledge obtained in day to day life, constantly enriching the life journey of her own and others.
In 2011, Annie was certified as an NLP Trainer.
In 2012, she obtained the qualification Master Trainer of NLP certified by NLP University, USA and American Board of NLP
In 2013, she became the first Malaysian to be granted an affiliation for Practitioner or Master Practitioner Co-certification Programs by NLP University, USA.
Meanwhile, she is actively promoting and sharing the knowledge of NLP.
In 2012 and 2014, under her leadership, the EMR team held the very first Chinese NLP International Conference in Malaysia. It was a big success.
In 2018, the EMR team held the very first NLP Global Congress in Malaysia. 2020 will be held in Shanghai China.
"Honesty" and "Tri-Wins" are the principles she has been upholding, driving her to succeed in life. To her, success is accomplished when "Tri-Wins Ecology" is achieved – Good for me, Good for you, and Good for the world!
Training Courses : NLP University Practitioner Certification Program, NLP Trainer Training Certification, NLP Secret, I'm Coach, NLP Charismatic Leadership Training Camp, In house Training Course.
Other Knowledge : Gestalt Therapy, Systemic Constellation , Hypnotherapy , Enneagram , Change Management ,  Meta Program , NLP , NLP Coaching skills , The Embodied Life™.
CONTACT DETAILS
EMR Academy, Sdn Bhd
3-1 Jalan Sentosa Villa 1/1
Taman Sentosa Villa, Kajang
43000 Selangor, Malaysia
Telephone: +603 87366666
Web: www.emr.my
Email: mines2020@yahoo.com

Get more information
Request more information and we will answer you shortly