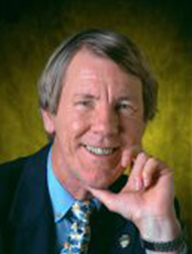 Lars-Eric Uneståhl, Ph.D. from Uppsala University, Professor at Örebro University and the current President of the Scandinavian International University in Sweden, a private University which also provides education in Coaching, NLP, Mental Training and Self-Hypnosis. He also runs courses in Hypnosis for Medical doctors, Psychologists and Dentists.
Uneståhl has published more than hundred research articles in areas like "Alternative States of Consciousness", "Relations Mind and Body", "Sport Performances" etc.
He developed the "Swedish model of Mental Training" in the nineteen sixties and was at that time in close contact with Milton Erickson, Virginia Satir and Timothy Gallwey. Since then he has also contributed actively in the development of Coaching and NLP.
Founding President for the International Society for Mental Training and Excellence and has served as President for 3 World Congresses (Hypnosis and Psychosomatic Medicine 1973, Sport Psychology 1985 and Mental Training and Excellence 1981).
Council member of various international organizations, teaching at Universities in more than 20 countries, author of 17 books.
One of three Swedish ICC certified trainers in Coaching.
CONTACT:
Email: info@slh.nu
Get more information
Request more information and we will answer you shortly