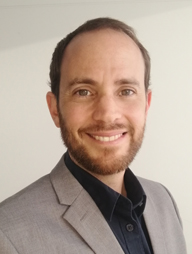 Ronald is passionate about personal and organizational transformation.
He studied Business Administration and after finishing his degree, he worked for 10 years in the areas of Consulting, Marketing, Sales, and Customer Service, holding important positions of Headquarters and Management in different transnational companies. But in 2011 he found his main vocation and purpose, which is to help people achieve their goals, dedicating himself from that moment to being a University Professor, Consultant and Coach. Currently, he helps people and companies to achieve their best version through high-impact Coaching and Training processes.
In addition, he has done volunteer work since 2004 and since 2011 he is Co-Founder and Director of a volunteer organization whose purpose is to develop and empower low-income people through training in soft skills and entrepreneurship. With this organization, he has managed to impact more than 400 beneficiaries, thanks to more than 20,000 hours of volunteer work.
Among his achievements and studies, we can mention:
Average satisfaction evaluation of 9.7 out of 10 by his Coaching clients, as well as by the participants of his workshops (www.gran-pro.com/testimoniales)
Evaluated among the 10 best professors of the Faculty of Business Sciences offering Undergraduate and MBA courses at the Universidad del Pacífico. Peruvian university ranked number 1 in its majors.
International Trainer Certified by the ICC.
International Coach Certified by the ICC.
NLP Practitioner at Milton Erickson Institute.
Practitioner Diploma in Educational Coaching, NeuroPedagogy and Talent Management.
Diploma in Community Psychology from the Pontifical Catholic University of Peru.
Master's Degree in Marketing Management from the Universidad del Pacífico (1st place).
Bachelor of Business Administration from the Universidad del Pacífico (2nd place).
Fluent in Spanish, English and Portuguese.
CONTACT
Gran Pro – Coaching, Mentoring & Training
Lima, Peru
www.gran-pro.com
coachronaldgranthon@gran-pro.com
(+51) 955 474 055
www.linkedin.com/in/ronald-granthon-uriarte
www.youtube.com/c/GranPro
www.facebook.com/GranPro.Coaching
www.instagram.com/GranPro.Coaching
Get more information
Request more information and we will answer you shortly.