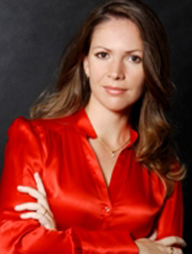 Andrea Lages is an executive coach, author, consultant, and one of the most respected coaching trainers in the world.
She has given training in Neuro-Linguistic Programming (NLP) and Coaching, including the International Coaching Certification Training to people from more than 30 countries; she also participated as trainer and co-creator in a Post Graduation course in Executive Coaching for Derby University in England given to Company Presidents and CEOs.
She is co-founder of the ICC (2001) and an ICC Master Trainer, co-founder and CEO of Lambent do Brasil, an international Training and Consulting company based in São Paulo, Brazil (2002), an NLP Master Trainer, consultant, business trainer and executive coach.
Living in England, she works internationally doing International Coaching Certification trainings, NLP certification courses (including the NLP Trainer Training Program), and seminars on communication skills, systemic thinking, leadership, sales, and goal setting, with individuals and teams.
She has worked in many countries of Asia, Americas and Europe, including the UK. She speaks English, Spanish and Portuguese fluently and trains and coaches in all three languages.
Andrea designs and runs management development, training, coaching, customer service training, team building, applying Coaching, NLP and Systemic Thinking in practical ways within organizations.
Andrea is co-author with Joseph O'Connor of 'Coaching with NLP – How to become a Master Coach' published in English by Thorsons and translated to date into nine other languages, and of 'How Coaching Works'  (AC Black 2007), nominated for the 'Financial Times Best Business Book of the Year 2007′. More recently, they wrote 'Coaching the Brain: Practical Applications of Neuroscience to Coaching' (Routledge 2019).
Training qualifications
NLP Master Trainer (International Community of NLP – 2001)
Master Trainer of Coaching (International Coaching Community 2001)
NLP Master Trainer (International NLP Association – 2002)
NLP Master Trainer (International Association of NLP Institutes 2003)
Coaching Master Trainer (International Association of NLP Institutes 2003)
Training experience
Andrea was one of the first Brazilian Trainers to give Coaching courses outside Brasil.
She is the only Latin American Master Trainer in Coaching of ICC.
Andrea has already trained over five hundred people, from 35 countries.
She specializes in coaching presidents, owners and board members of businesses.
CONTACT DETAILS
Lambent do Brasil
Email: andrea@lambent.com
Web: www.lambent.com and www.internationalcoachingcommunity.com
Get more information
Request more information and we will answer you shortly