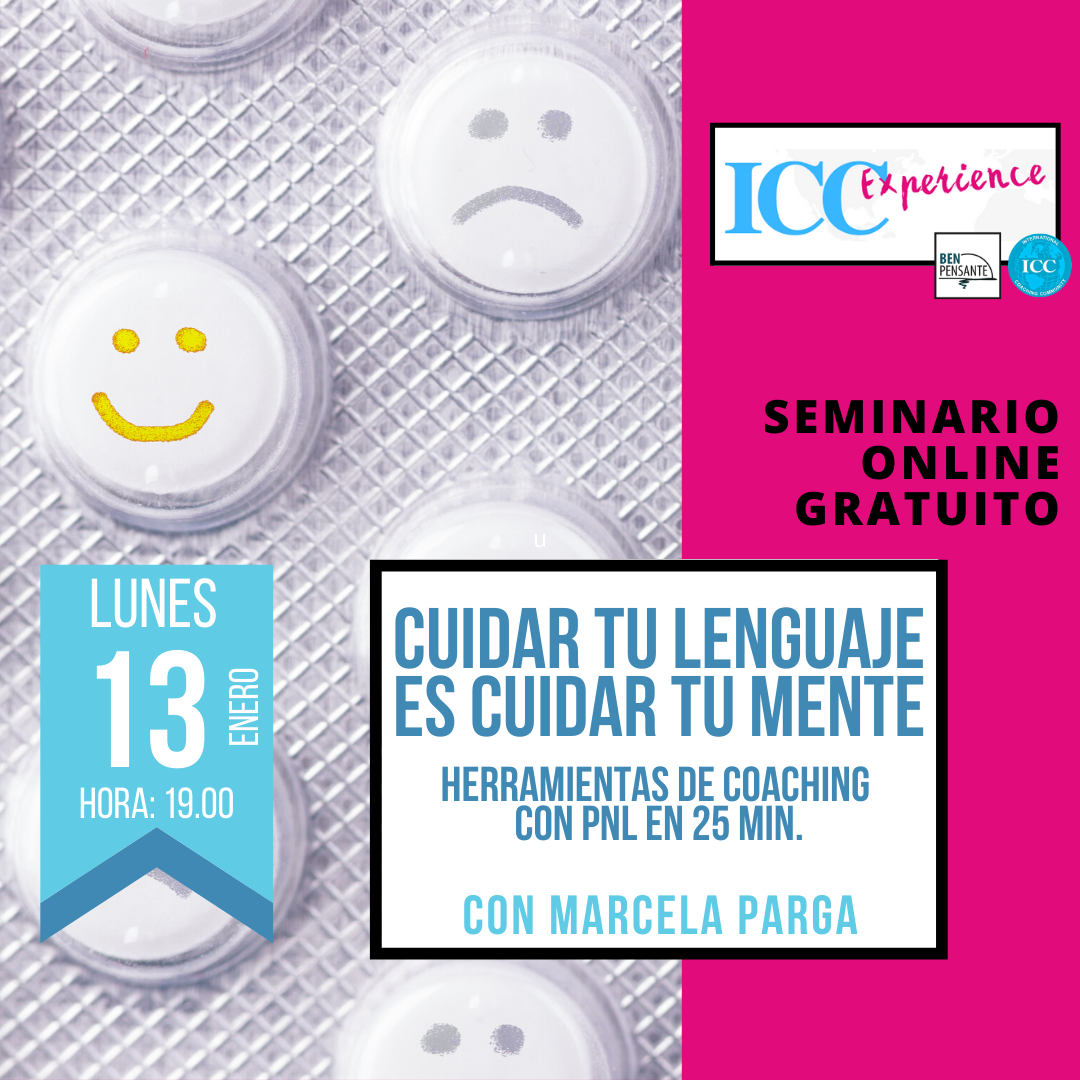 CUIDAR TU LENGUAJE ES CUIDAR TU MENTE
Herramientas de coaching con PNL en 25 min
Madrid, Spain – January 13 , 2020
En este seminario online, la trainer ICC Marcela Parga nos explicará cómo influye en nuestra mente el lenguaje que usamos.
Continuamos con el ciclo "Piensa Bien y acertarás" de la ICC Experience España y basándose en la neurociencia y la programación neurolingüística veremos como usar el lenguaje de una manera consciente para alcanzar la vida plena.
Conocerás una herramienta para utilizar tu lenguaje en tu propio beneficio.
Ser consciente de nuestro lenguaje nos ayudará a pensar mejor y a tomar acción.
No te lo pierdas!
El seminario online:
se celebrará Lunes, 13 de enero a las 19h hora de Madrid (18h UK)
es gratuito
a los que se inscriban y finalmente no puedan seguirnos en directo les enviaremos la grabación
el webinario forma parte de la ICC Experience en España
Sobre la ICC Experience:
Es una experiencia mensual en España que tiene como objetivo facilitar los contenidos de interés a los coaches y personas interesadas en coaching y desarrollo personal, de una manera ligera y amena y sobre todo ayudándoles a que el conocimiento se lleve a la práctica y se convierta en una verdadera experiencia. Con ello queremos fomentar la comunidad de la ICC y de las personas interesadas en crecimiento personal.
Son ciclos de 3-4 entregas como si fueran "mini cursos"
El primer ciclo se titula "Piensa bien y acertarás" y está dedicado a la neurociencia y PNL en coaching
La primera entrega de este ciclo se realizó en Diciembre de 2019 con 2 partes:

seminario online que impartió el trainer ICC Daniel Álvarez sobre cómo "La Neurociencia del Coaching en 25 min" – contenido inspirado por en nuevo libro de los cofundadores de la ICC Joseph O'Connor y Andrea Lages, "Coaching the Brain"
Correo electrónico con contenidos relacionados con "la neurociencia del Coaching" y cómo pensar bien. Este correo como pieza clave contiene el vídeo animado de 3 minutos creado en base de los conocimientos del libro de Joseph y se titula "Cambia el cerebro tóxico en saludable". Se puede consultar aqui: https://mailchi.mp/benpensante/icc-experience-dic2019-1277941

La segunda entrega continuará el tema de "cómo pensar bien" a la luz de los descubrimientos de la neurociencia y PNL y tratará sobre el Lenguaje. El seminario CUIDAR TU LENGUAJE ES CUIDAR TU MENTE- Herramienta de coaching con PNL en 25 min. Es la primera parte y le seguirá también un correo con contenidos extra.
Las personas pueden inscribirse para recibir la ICC Experience a través de este enlace: https://mailchi.mp/benpensante/mi-icc-experience
Get more information
Request more information and we will answer you shortly.